The 2006/07 British Crime Survey (link) published on 19th July 2007 revealed that in 2006/07 (April 06-Mar 07) 93,000 men were victims of domestic violence. This was a 29% increase from 2005/06 when the figure was 72,000.
The full statistics on domestic violence can be found here (link) and the figures for 2001-2007 are below:-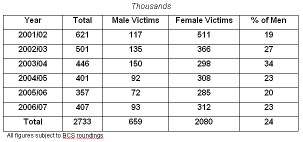 The big issue is that despite the evidence that since 2001, 24% of victims have been male, there continues to be a lack of media (link) and society recognition and specialist services such as refuges for male victims. This issue has been covered here in detail (link):-
Men make up 24% of domestic violence victims in the past six years;

1 in 6 men will become victims of domestic violence in their lifetime;

There are no male-only refuges in the UK as opposed to over 470 for women. There are five women's refuges that have at most 11 places for men;

There are only three small charities funded mainly by donations helping male victims whilst female charities receive huge state funding;

Local authorities receive £59 million per year in government funding to support female domestic violence victims and receive nothing to support men.
With the Gender Equality Duty now placed on the state including local authorities, there is a duty now to provide services for male victims which they patently not doing as investigated by the excellent work by Men's Aid (link).