A new book - A Man In A Woman's World - has been published. Written by Jackie Hayden it outlines his disillusionment at the anti-male culture and anti-male sexism in the domestic violence sector in Ireland. A sector that he worked in including four years as Chairman of the Wexford Rape Crisis Centre. His testiimony is therefore unquestionable.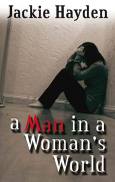 The book is available at (link) or (link).
Two reviews from Ireland show that this is a must read for anyone wanting to read more about the anti-male culture we live in where it is acceptable for those who believe in 'equal opportunities' to berate men.
Eilis O'Hanlon writes in The Independent 'that they can lose the active support of Jackie Hayden is a dreadful indictment of feminists:
'He has seen, too, the way in which problems which afflict men have been sidelined and ignored, and no one seems to find it at all strange that they should be, while those affecting women are automatically assumed to be more important. He even details one shocking incident when, in a piece he had written for Hot Press, he mentioned the need to help victims of domestic abuse "to return to a life of non-violence that is the human right of every woman, man and child", and was urged by the female director of the Wexford Centre to drop the word "man" from the sentence because it was "inappropriate in the context".
'He has seen how women are allowed to joke about men in a belittling and derogatory way and no offence is allowed to be taken, whereas men are "permanently under scrutiny and threat" for the slightest remark. He knows that relations between the sexes are constantly shifting and under negotiation -- "Human behaviour," he writes, "is not robotically controlled." But still feminists speak as if all social and sexual interaction can be subject to cast-iron rules, with the severest punishments for transgression.'
The full article is here (link)
John Waters from the Irish Times stated: 'Hayden tells of his disquiet at the level of anti-male sexism and hostility he encountered within the rape crisis and women's aid networks. Somewhat typical of his and my generation, he describes growing up in the rock 'n' roll counter-culture and being easily persuaded that sexism against women was wrong and violence against women utterly unacceptable. But, in the trenches with feminist activists, he found the dream gradually unravelling.
'Conditioned by feminism to avoid any form of sexism, he found himself "confronted with sexism almost at every turn". Many women he worked with "revealed themselves as harbouring a cynicism about men in general that was profound and far-reaching"'.