The Gender Pay Gap and the reasons behind it is one of the biggest anti-male myths going.
When Harriet Harman put forward draft legislation in June (link) explaining that there was a need for employers to be able to discriminate between men and women, she explained it was due to the Gender Pay Gap.
This has been used for decades now as a stick to beat men and also to allow all sorts of discrimination against them such as women-only courses, "positive" action training and used as a general anti-male propaganda tool. There has never been any systematic proof that a women is paid less than a man when she is doing the same job as a man at the same company with the same skill, experience and adding the same economic value
The Office of National Statistics this year produced clear statistics (link) and an explanation on why the gap exists and also that in some cases the gap is in favour of women.
The graph below from the Economic & Labour Market Review Vol 2 / No 4 / April 2008 shows that there is no discernible pay gap between men and women working full-time (median) until a women reaches her mid 30's (7% gap) and then accelerates to around 19% when a woman is in her mid forties.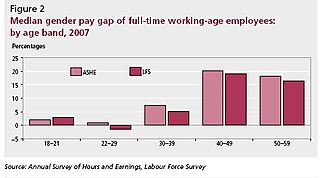 Why is this? Well of course, as the research states, it is because many many women change their priorities in life (of which they are comfortable with) to bring up a family. It means there are then either working part-time, limited full-time hours or not working at all. In addition, when a mother is home, the father tends to work harder not only because there is one income coming in but also to make sure the household remains financially viable and he is also committed to bringing in as much money as possible for his and her children.
With such career breaks, when a woman goes back to work full-time, she has less work experience which will have an impact on her salary.
The report also shows that women working part-time in large companies earn more than men. In addition, in the health, social care and secretarial occupations, part-time women also earn more than part-time men. In the first two categories, the gap is 22.% in favour of women.
It is interesting to note that the oft-quoted 17% gap between men and women is based on a mean average rather than the more sensible median average which takes out the distortions of the very high earners. If the median is used, the figure is just over 13%.
What the research states is that the reason for the gap is because of :-
Differences in educational levels and work experience;
More part-time women workers;
Travel patterns as men travel further to work than women;
Occupational segregation because many female occupations are paid less than male ones.
It also clearly states that "part of the gender pay gap is the result of RATIONAL choices made by the different sexes and not all due to discrimination."
What this means is that whenever the Government or others wheel out the Gender Pay Gap as a reason for more positive discrimination for women and therefore negative discrimination for men, use this Government report.
It nails the myths of those who want to use Gender Pay Gap as another stick to beat men with.