For a decade at least now, the anti-male establishment hasused the gender pay gap in the UK to beat men and employers up - its all allegedly about discrimination in the workplace. Anyone who disagreed with campaigns from the anti-male Fawcett Society, the Labour Government, the TUC and others were shouted down. The media, always looking for an easy anti-male story, lapped it up (link).
At least in the USA they had Warren Farrell (link) highlighting how the gender pay gap is down to lifestyle choices, the family unit and how the gap does not apply across the board. There had been no equivalent in the UK, until now.
In a ground breaking monograph for the Institute of Economic Affairs, J.R. Shackleton, Professor of Economics at the University of East London, comprehensively destroys the arguments of the politically correct.
In "Should We Mind the Gap?" (link), he finds that 'the free choice of men and women - as well as earlier educational choices and the choices they make regarding their domestic arrangements - are at the heart of differences in pay levels'. He states the 'it isn't appreciated what a crude statistical artfefact the gender pay gap is.'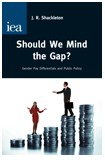 It's conclusion is that the gender pay gap is not down to discrimination. It is down to women making a choice to bring up families and also that inequality exists within groups. He also highlights huge anomalies in the blanket 17% gap that the anti-male groups use to beat men and employers up.
For instance, he shows how that although married men earn more than married women, singlewomen, as they get older, earn more than single men. Or that, Black Caribbean women earn more than their male equivalent.
In addition, as more women choose to work in the public sector and pay in that sphere is generally lower than in the private sector, it is small wonder that there is a gap.
His clear insightful study, using official figures, completely and utterly destroys the arguments put forward by the Fawcett Society, the Commission for Equality and Human Rights and the anti-male hystericspurveyed by Harriett Harman (she will be introducing more legislation soon on it). They even try and describe hisresearch as 'unhelpful', they know they have been found out.
Whenever, you hear them making the point, ask them whether they have read this research?.
Articles on the monograph can be here (Sunday Times, Sunday Times 2, Telegraph  and Daily Mail with debate).
Recent articles on the site can also be found here (1, 2,3 )